Nutrition & Dry Eye Syndrome
At Envision Optical we believe a preventative approach is best in caring for your eyes and vision. Nutrition and diet play a crucial role as the foundation for good eye health through life. Increasingly, research has demonstrated the important role nutrition can play in providing systemic support and relief for dry eyes. As optometrists based on the Gold Coast and Tweed Heads, we have had many patients experience the benefits of a dietary supplement in improving their dry eyes symptoms. Following is an overview of the important nutrients in helping dry eyes:
EPA and DHA
Omega-3 is one of the essential fatty acids which are a major building block of cell membranes important for the brain and nervous system, visual development and retinal function. Clinical evidence demonstrates the importance of omega-3 essential fatty acids in treating dry eye syndrome. The two most important dietary omega-3 fatty acids are EPA (eicosapentaenoic acid) and DHA (docosahexaenoic acid). These two essential fatty acids help to augment both the watery aqueous and oily lipid layers of tear film. They also play a significant role in stabilizing the tear film by improving tear quality and reducing evaporative loss. EPA and DHA also play a critical role in anti-inflammatory processes. The best source of these EFA's is fish oil but often it is difficult to consistently consume the large amount of oily fish required to achieve a therapeutic effect.
GLA
Gamma-linolenic acid (GLA) is an essential fatty acid in the omega-6 family found primarily in plant-based oils that has also been found to play a key role in reducing dry eye symptoms. GLA cannot be easily obtained from the typical diet. Linoleic acid, which is found in cooking oils and processed foods, can be converted in the body to GLA, but unfortunately, dietary and lifestyle factors such as sugar consumption, alcohol, aging, and illness inhibit the body's ability to make sufficient GLA on its own. Adequate GLA is required to maintain a healthy balance of anti-inflammatory signalling molecules in the body. GLA can be converted to the anti-inflammatory prostaglandin, PGE1, which supports normal tear secretion. Clinical studies report that GLA reduces symptoms and calms inflammation in people with dry eye and improves symptoms and increases tear production in people undergoing corrective laser procedures. It reduces symptoms and increases antiinflammatory prostaglandin levels in those with Sjögren's Syndrome. Combining the essential fatty acids from omega-3 fish oil with the critical omega-6 GLA from borage oil in balanced amounts helps block the formation of inflammatory prostaglandins.
Vitamin D
Research has shown that Vitamin D deficiency is strongly associated with dry eye symptoms both in patients with Sjogren's Syndrome and in non-Sjogren's patients also. This has led scientists to hypothesize that Vitamin D may play an important protective role in dry eye syndrome due to its antiinflammatory properties. Supplementation with Vitamin D may be useful for dry eye symptoms including ocular discomfort, soreness, redness, ocular fatigue, sensitivity to light and blurred vision. Researchers also suggest that vitamin D may help prevent dry eyes by inducing cathelicidin, an anti-microbial protein that can be produced by cells in the eyes and heal eye wounds.
Vitamin E
Vitamin E and particularly gamma-tocopherol have significant antioxidant and anti-inflammatory benefits. It is important to include Vitamin E in EPA/DHA supplements as it prevents oxidation of omega-3's and optimizes their metabolism; indeed, studies using fish oil have had superior results when a vitamin E supplement was also consumed. Vitamin E is also an important complement to EPA and DHA as the extended use of fish oil may increase the requirement for vitamin E.
A New and Advanced Nutritional Treatment for Dry Eye Syndrome
| | |
| --- | --- |
| DRYEYE FORTE is a powerful new formula that delivers systemic relief for Dry Eye Syndrome. Featuring a proprietary blend of essential fatty acids and nutrients to support and augment the layers of the tear film and help reduce inflammation, it addresses the underlying causes of dry eye symptoms. DRYEYE FORTE's patented formulation provides highly concentrated omega-3 EPA and DHA from pure, sustainably sourced, mercury-tested surfactant free fish oil. | |
The unique and specialised omega-6 fatty acid GLA is delivered from the rich plant-based source Borago officinalis, or borage oil. Vitamin D3, with its important anti-inflammatory properties, is also featured in DRYEYE FORTE, as deficiency in Vitamin D is strongly correlated with dry eye syndrome. DRYEYE FORTE also includes a potent combination of natural Vitamin E d-alpha tocopherol and mixed tocopherols including the powerful antioxidant gamma tocopherol. These antioxidants enhance and optimise the omega-3's, and also provide anti-inflammatory support for the eyes.
Formula & Dosage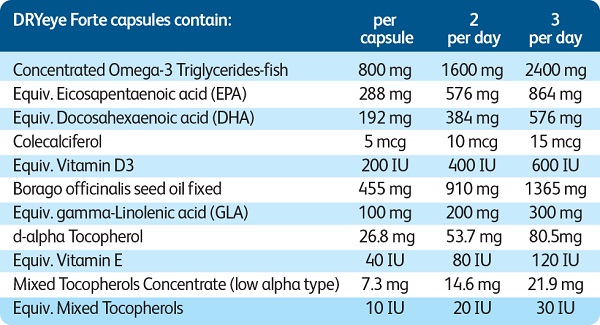 It is recommended that adults begin with a dosage of 3 capsules per day for first 6-8 weeks, or until symptoms have reduced. Once symptoms begin to subside, intake can be reduced to 2 capsules per day, as a maintenance dosage.
We have introduced Dry Eye Forte as a high quality nutritional supplement to our Dry Eye treatment program, and have already seen excellent results for our patients at our 4 branches in Burleigh Heads, Burleigh Waters, Nerang and Tweed Heads. Dry eye nutritional support with Dry Eye Forte is a core component of our patients ongoing dry eyes maintenance program in addition to our in office treatments such as Blephasteam and IPL for Dry Eyes.
If you or someone you know suffers from dry eyes, please contact one of our 4 branches for a comprehensive Dry Eyes Assessment so we can accurately diagnose the cause of your dry eyes and start appropriate treatment.